SATKHIRA, Bangladesh — On a cloudy Friday morning, Asma Akhter took a break from fishing for minnows. Her clothes still wet, she sat outside her two-room home, gazing out at the waters that are both her salvation and her doom.
Like most people who live in this part of southwestern Bangladesh, Akhter depends on the river to survive. Day after day, she nets fish in the same waterway where others farm shrimp and crabs. But in recent years, rising sea levels together with intense cyclones and catastrophic floods have reshaped the region and caused salt water to spill into the rivers, streams and soil all around Akhter — ravaging not only her livelihood but also her body.
Six months ago, Akhter, 25, underwent a hysterectomy after suffering what she described as "unbearable pain" following the birth of her second child. Even after the operation, she said she still experiences bouts of fever and vomiting. Her illness, according to her doctors, is caused by excessive exposure to salt water. 
"After collecting minnows, we go to the pond to bathe and the water is still salty," Akhter said in an interview conducted in Bengali, as her daughter played on the balcony of their house just feet from where the river tide touches their yard. "The water we are drinking is also very salty. Salt water is killing us and our dreams and destroying hope."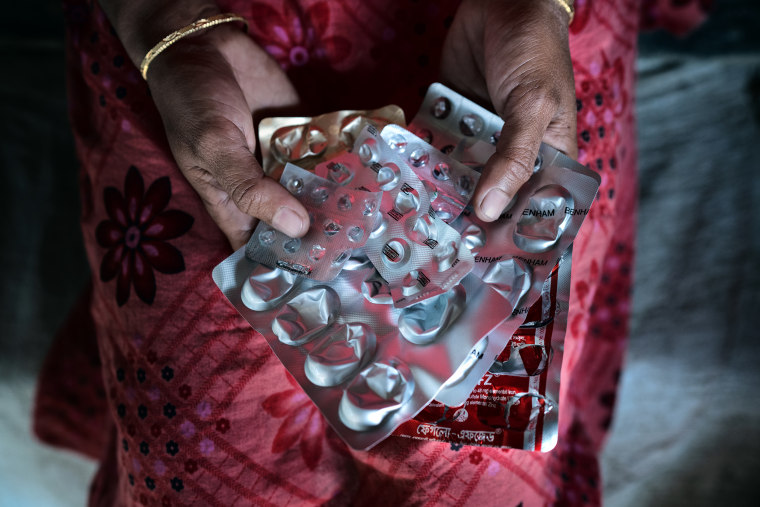 Thousands of Bangladeshi women like Akhter face devastating reproductive health issues caused by the increasing salt content in the waters in which they live and work, threatening not only their personal health and safety but also the well-being of their families and the stability of their communities.That salt comes from the Bay of Bengal, where Bangladesh's major rivers meet the sea. Hundreds of rivers snake across the country, the eighth-most populous in the world, buttressed in the south by the planet's largest mangrove forest. 
Yet as global temperatures climb and the planet's glaciers melt, the region's low-lying delta can only do so much to stave off the rising sea. Here, even seemingly small changes to sea levels — a few millimeters per year — can waterlog coasts and erode the shores. As such, experts and advocates often refer to Bangladesh as "ground zero" for the climate crisis. 
But the advancing tides do more than swallow up the coasts and inundate the land. As the seas swell and salty water seeps deep underground, the quality of soil for farming, ponds for washing and rivers for cultivating freshwater fish and crustaceans become severely degraded. Worse still, entire communities can become cut off from access to clean drinking water.
These impacts have far-reaching societal implications, and among those most at risk are women living in parts of the world that are least responsible for global warming yet are often powerless to stop the consequences.
At the heart of the issue is the fact that, while no one is immune to the effects of climate change, global warming does not affect everyone equally, said Gitanjali Singh, the country representative for Bangladesh at UN Women, a branch of the United Nations that champions gender equality and women's human rights.
"Because of pre-existing vulnerabilities, the impact on women and girls and other gender-diverse communities is different," Singh said. "Certain vulnerabilities, discriminations and deprivations get exacerbated."
A 2018 study published in the journal Agricultural Economics found that around 20 million people in coastal areas of Bangladesh are affected by increased salinity in drinking water. 
Excess salinity in drinking water can cause sodium intake levels to spike, which increases blood pressure and has been linked to higher risks of hypertension and preeclampsia in pregnant women. Bathing or standing waist-deep in saltwater for hours to fish can increase a woman's risk of reproductive tract infections and affect normal menstruation. Elevated exposure to salt water has also been associated with skin diseases, diarrheal diseases and outbreaks of cholera.
Lipi Khanom, 28, lives in Kolibari, a village near the Sundarbans, the world's largest mangrove forest. She said that when the tide comes in, salt water often spills into her house and into a nearby pond where she used to bathe. For the past two years, she said she has dealt with irregular periods and pain in her lower abdomen. Khanom and her husband have also struggled to get pregnant with a second child.
"My husband and I are quarreling about not having children," she said in Bengali. "He is blaming me."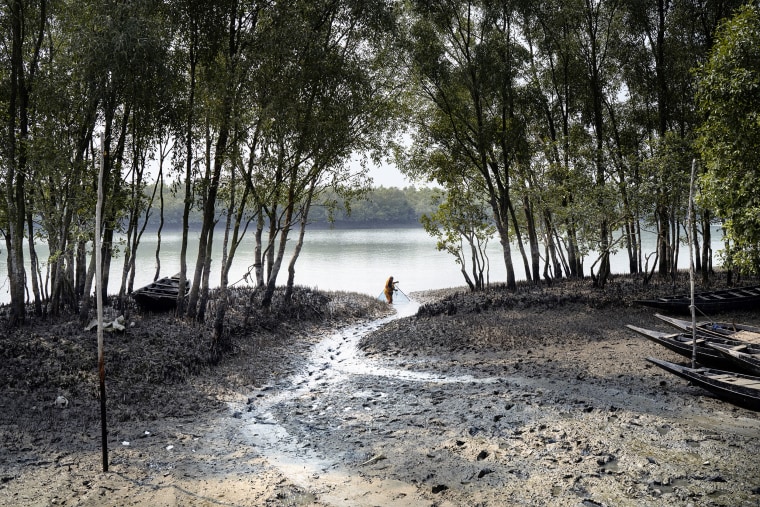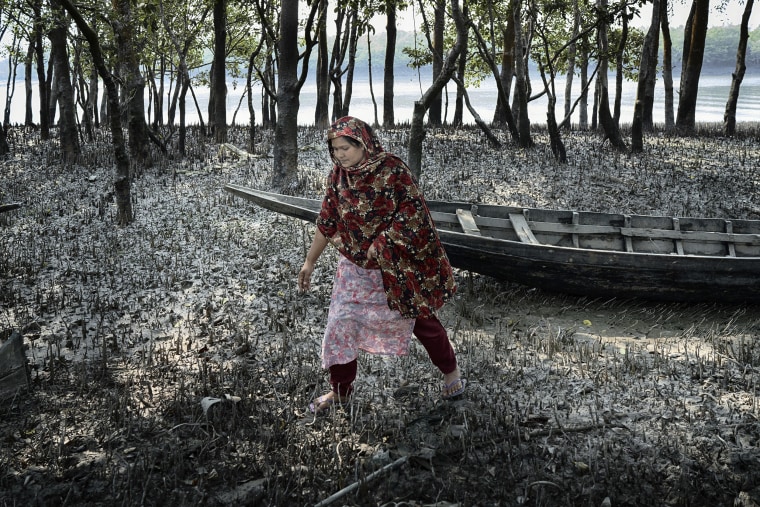 Khanom said a doctor in Dhaka, whom she was able to visit recently thanks to a $400 loan from a nongovernmental organization, recommended she get a hysterectomy but she refused to go through with the operation.
"My family will not survive if I do," she said. "My husband will divorce me. Then where will I go? I have no one else."
As one of the most experienced midwives in the village, Shefali Bibi has seen firsthand how saltwater intrusion and malnutrition has imperiled pregnant women in her community. 
"Many have to have abortions," she said in an interview conducted in Bengali. "Malnutrition is also increasing among children, and their bodies are not growing according to their age. Menstrual irregularity in women and body itching are increasing."
Bibi, 45, said she has cared for 94 women over the past five years and often feels like their only health advocate in the area.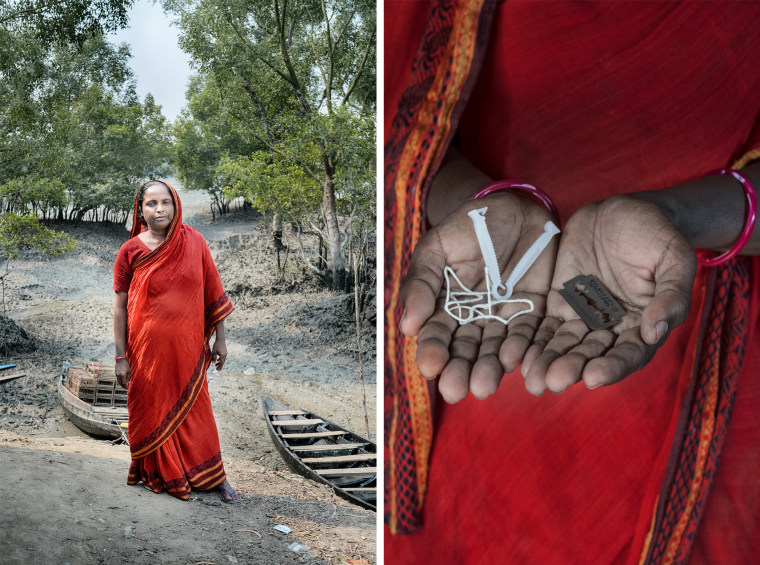 Research published last year by Ipas, a United States-based NGO that focuses on reproductive justice, found that global warming exacerbated existing gender inequalities and directly and indirectly affected women's sexual health, pregnancy outcomes, contraceptive use and fertility intentions in Bangladesh and Mozambique, two climate-vulnerable countries. 
The report found that during extreme weather events made worse by climate change, such as cyclones, access to health care and contraceptives was limited. The researchers also found that the climate crisis deepened economic instability and added extra burdens on women's caregiving responsibilities. 
In some cases, that could mean women need to take up risky work to provide for their families, said Sally Dijkerman, a senior research scientist at Ipas who worked on the report.
"You might as a woman be forced to wade in waist-deep waters where you're fishing for fingerlings to feed your family, and those rivers have been polluted not just by the cyclones and the destruction to the sanitation systems, but also by the sea levels rising and putting more and more salinization in the water," she said. "That directly impacts their reproductive organs, causing infections, cancers and injury."
In Satkhira, saltwater intrusion has choked off access to clean drinking water, according to Akhter.
"There is not a single drop of fresh water in the entire area," she said. "It takes two hours to get fresh water."
Fatima Idris Eva, a medical officer in the town of Shyamnagar in Satkhira, said she has noticed an increase in the number of patients, including men, with sexual or reproductive ailments over the past two years. This includes women reporting irregular periods, discharge and sores around the uterus, according to Eva.
"The water in different areas of Shyamnagar is excessively salty," she said in Bengali. "We get many patients here who have uterine problems due to saltwater use. It's alarming."
But the burden on some women can come long before climate-related health problems develop. Poor families may force their daughters to drop out of school to work, or opt to marry off their girls at young ages, in order to alleviate financial stress. Akhter said she herself stopped going to school and got married after Cyclone Aila, which hit Bangladesh in 2009, left her parents in a financial crisis. 
"This salt water has destroyed my childhood, school, and life," she said.
Twelve-year-old Sakila Akhtar was similarly robbed of her childhood years to help lift her family out of poverty. She said she once dreamed of becoming a politician to change the fate of the people in her hometown, but she is now mother to a 1½ -year-old daughter.
"I wanted to discover the world in many ways and know how to make many things like handicrafts, but now I have to work as a day laborer with my baby in my arms," Akhtar said in an interview in Bengali. "My father has nothing. I had to accept it and get married. My husband is poor too."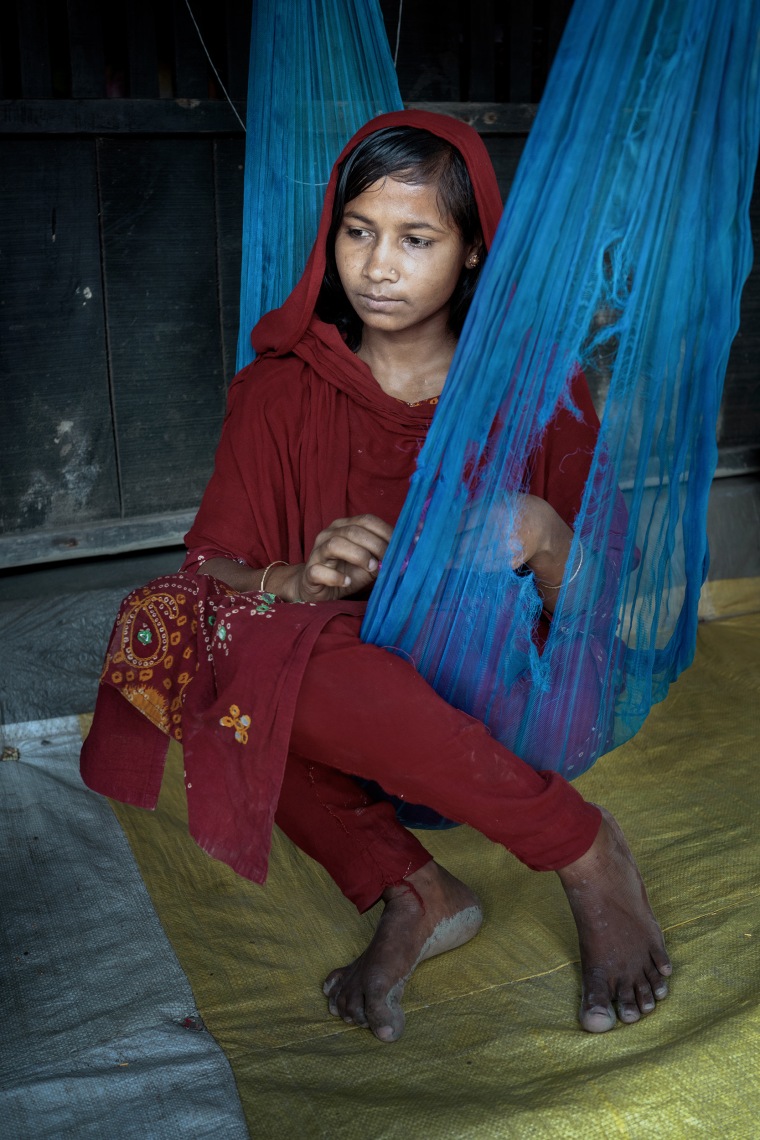 Akhtar said she has been dealing with irregular periods and heavy discharge, and her doctor recommended bathing in fresh water, but none is available nearby.
Jahanara Begum, 65, remembers when that was not always the case.
"Once upon a time, fresh water was available here," she said in Bengali, adding that she now has to journey more than 4 miles to fetch drinking water.
Even during the monsoon season, households cannot save enough rainwater to last long periods of time.
Begum said her husband is sick and she suffers from uterine cancer and diabetes. Prolonged exposure to brackish water has also made her whole body itch.
"I see doctors and take medicine, but there is no solution," she said. "So many diseases have settled in my body in these few years."
The risks to women's reproductive health is expected to increase as cyclones and flooding events become more frequent and intense due to global warming, and as sea levels continue to climb. Studies suggest that global average sea levels have risen by more than 8 inches since 1880, and scientists have predicted that roughly 17% of Bangladesh could be submerged by 2050.
"Here, everything becomes locked in a cyclone," 12-year-old Akhtar said. "Here, while thinking about people's future, a storm breaks the house, also breaking people's lives. Here, everyone is happy, but everyone is sick."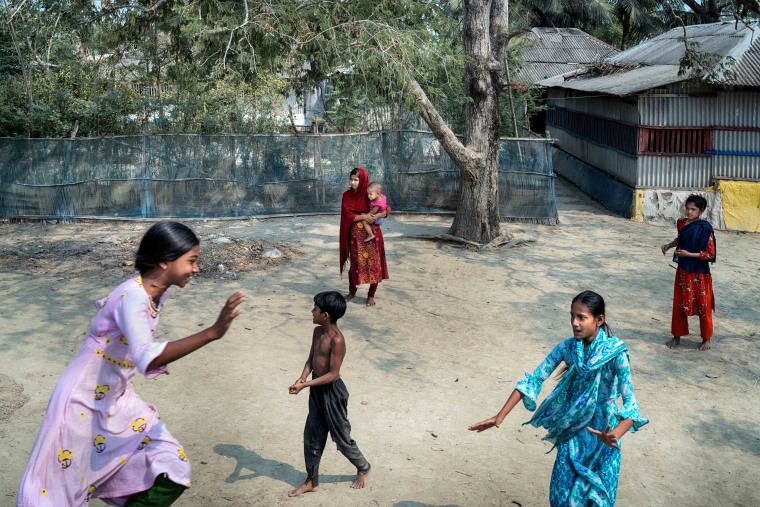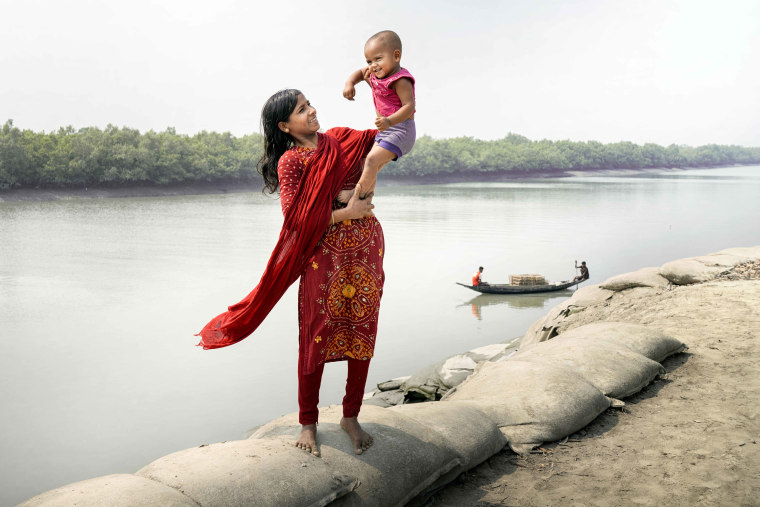 Tanbirul Miraj Ripon reported from Satkhira, Bangladesh, and Denise Chow from New York City.