A brutal heat wave has hit Southeast Asia at the same time that parts of the region are choking on worryingly high levels of air pollution — a one-two punch that experts say could make an already dangerous situation deadlier.
Temperatures well into the triple digits were recorded over the weekend, including new all-time highs for Vietnam and Laos: The Vietnamese city of Tuong Duong hit 111.6 degrees Fahrenheit (44.2 degrees Celsius) on Sunday, and a record 110.3 degrees F (43.5 degrees C) was recorded Saturday in Luang Prabang in Laos. Thailand's capital, Bangkok, also set a record of 105.8 degrees F (41 degrees C) over the weekend.
Heat waves can be deadly on their own, but parts of Vietnam and Thailand have also been blanketed in thick smog in recent weeks. Experts say the combination of extreme heat and poor air quality can lead to upticks in respiratory, cardiovascular and kidney diseases — impacts that will only worsen as climate change intensifies both heat waves and air pollution.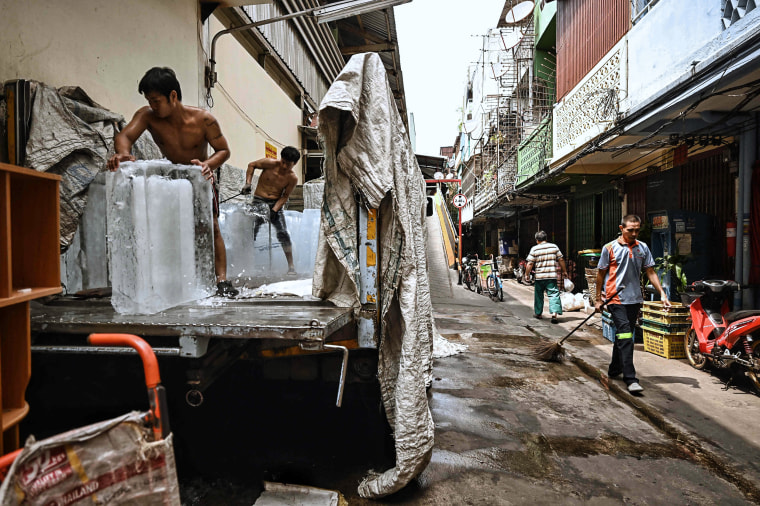 "When you have both these exposures — and especially extremes of these exposures — their combined effect is more than the sum of their parts," said Erika Garcia, an environmental epidemiologist at the University of Southern California Keck School of Medicine.
In a study published last year in the American Journal of Respiratory and Critical Care Medicine, she and her colleagues examined what happens when elevated levels of air pollution in California coincide with heat waves. Using data from 2014 to 2019, the researchers found that extreme heat alone increased the risk of death by around 6%. High concentrations of particulate matter in the atmosphere, caused in part by wildfires and other types of air pollution, increased the risk of death by roughly 5%. When both occurred at the same time, however, the risk of death increased by 21%.
Rajesh Kumar, a project scientist with the National Center for Atmospheric Research in Colorado, said extreme heat and high levels of air pollution can put extra strain on the cardiovascular system.
"Heat will cause the blood vessels to dilate and air pollution will increase inflammation in the lungs and throughout the body, so this can further increase the risk of heart attacks, strokes and other cardiovascular events," he said.
Kumar said health impacts from extreme heat and air pollution are a global concern, but the risks are becoming particularly severe across Asia in the weeks and months leading up to the monsoon season, which typically stretches from June to October.
"If you look at the Indo-Gangetic Plain — so, Pakistan, India and into Bangladesh — you will see that the highest ozone pollution occurs during April and May," he said. "That's the same as what we're seeing now in Southeast Asia."
Those same months also tend to be the hottest of the year in those regions.
Kumar's own research is focused on developing an air quality early warning system for developing nations. One such system, which provides alerts about air pollution up to 72 hours in advance, has been in use in New Delhi since 2018. This year, he and his colleagues are working on rolling out a similar early warning system for parts of eastern and southern Africa.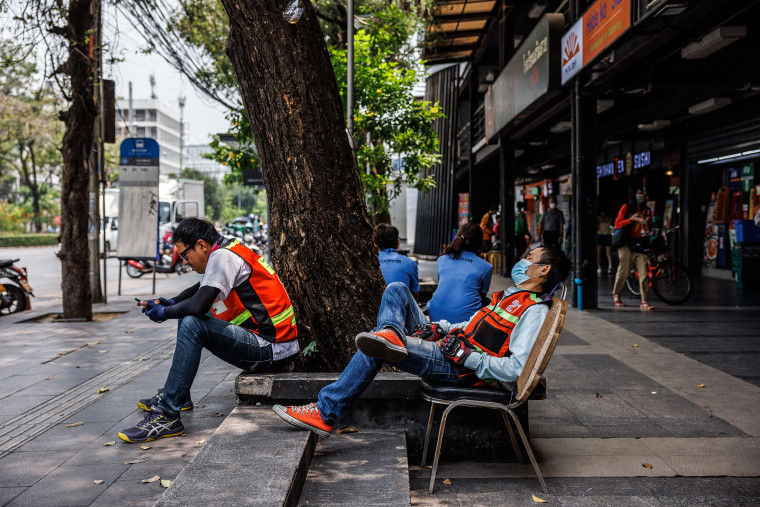 As greenhouse gas emissions degrade air quality around the world and global warming makes heat waves both more frequent and more severe, the combined risks could set off a public health crisis.
As such, future warning systems may need to weave together forecasts of temperature and air pollution. Garcia, at USC, said local leaders should also focus on interventions and adaptations for those at risk of serious health complications.
Dr. Wynne Armand, a primary care physician and associate director of Massachusetts General Hospital's Center for the Environment and Health, said there are many overlaps in which demographics and which communities are most vulnerable to extreme heat and air pollution.
Infants and older individuals tend to be more susceptible to the effects of extreme heat and air pollution, she said. Pregnant women and those with pre-existing cardiovascular or respiratory conditions are also especially vulnerable.
But socioeconomic factors also play a role, Armand said. Studies have shown that poorer communities and communities of color are disproportionately affected by extreme heat and poor air quality. They also likely have fewer resources to cope when air pollution and temperatures spikes. These issues are even more magnified in developing nations, experts have said.
"Health impacts from heat waves and pollution are heavily dependent on social, cultural and economic factors," she added.
As much of the Northern Hemisphere moves into the hottest months of the year, Armand said, local officials should raise awareness about the health impacts of heat waves and air pollution, and do what they can to prioritize resources for communities and people most at risk.
"There are people who can't protect themselves, people who don't have air conditioning, people who have to work outside," she said. "There should be an urgency to help these people."