Charming, quirky, cartoonish and sweet. 
These are just a few ways that viewers have described "Rye Lane," Hulu's new British rom-com starring Vivian Oparah and David Jonsson. It's not just the bright, fun energy of this film, viewers on social media say, it's seeing two Black people fall for each other, breaking away from typical romantic comedies where Black best friends to white protagonists are relegated to the sidelines.
Oparah recalled someone approaching her during the Pan African Film Festival in February, at one of the film's earliest showings. "He was like, 'It's so beautiful to see two dark-skinned people just fall in love. Usually, they'll do a dark-skinned man and a lighter-skinned woman. To have you two embrace, that felt really special,'" she recalled.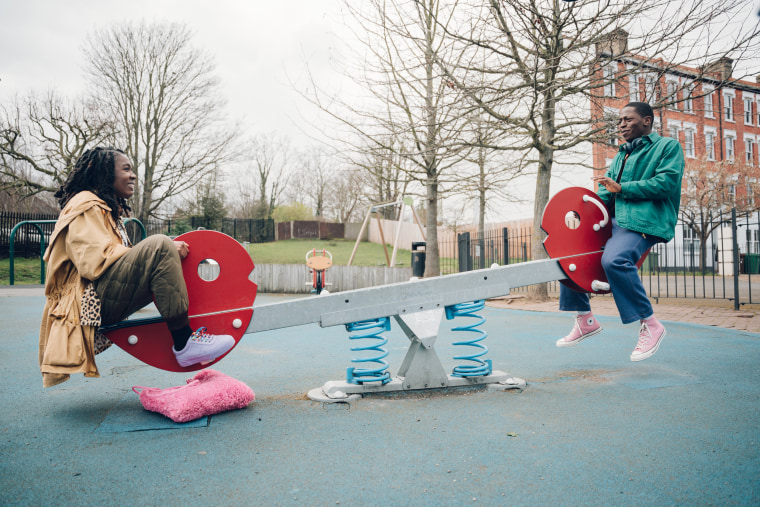 "Rye Lane" opens with Yas, played by Oparah, stumbling across Dom, played by Jonsson, crying in a bathroom stall at an art show, nursing his wounds after a nasty breakup. The film then follows the two as they walk through South London, Peckham and Brixton, getting to know each other in an accidental first date filled with delightfully cringeworthy moments, cinematic flashbacks and quintessential Gen Z banter. The lovebirds grow closer while lamenting recent breakups and end up working together to get even with their exes.
Today, the whiteness of mainstream rom-coms isn't lost on viewers, and many have lauded the existence of a Black-led romance devoid of trauma and exaggerated hardship. "Rye Lane was such a great and quirky rom-com. And with two dark skinned Black Brit leads? *chef's kiss*," one person tweeted. Another tweeted that they "loved seeing two dark-skinned black british leads having sweet, carefree banter." 
Oparah said that from the moment she went to audition for director Raine Allen-Miller's debut feature, she knew the film would be a love letter to both South London and dark-skinned Black characters. 
"Sometimes you get scripts and you could be the casting wild card," Oparah said. "But when I went into the room for the audition, it was a room full of dark-skinned women. That was clearly the intention. It was what they wanted."
"Rye Lane," named after a street in Peckham, made waves at the 2023 Sundance Film Festival, and critics are calling the movie a hip and charming take on classic rom-coms. The whimsical love story has even drawn critical acclaim on Rotten Tomatoes, landing a 97% "certified fresh" rating as of Tuesday. 
"For it to resonate with so many different pockets of the Black community feels really lucky and unique," Oparah said. "It seems that quite a lot of people feel seen by it. You make art for people to feel seen or understood or represented. For that to be fulfilled feels super special."