The White House is calling for a "thorough investigation" into the May 1 death of a Black man who died after a New York City subway rider put him in a chokehold.
The call came more than a week after Jordan Neely, 30, died following an altercation on an F train. A 24-year-old man held Neely, a homeless busker who appeared to be in mental distress, in a chokehold for about 15 minutes. Neely was later pronounced dead at a hospital. 
"Jordan Neely's killing was tragic and deeply disturbing. Our hearts go out to his family and loved ones," a White House spokesperson said Tuesday in a statement. "We firmly believe that the events surrounding his death demand a thorough investigation."
The comments came a day before President Joe Biden was scheduled to head to New York City for a pair of campaign fundraisers.
Neely's death sparked protests and a national conversation about the violence and inhumane treatment that unhoused people, especially those with mental illness, often endure. Advocates and Neely's supporters expressed anger that Daniel Penny, the man who put Neely in the chokehold, was only briefly held by police and has not been charged.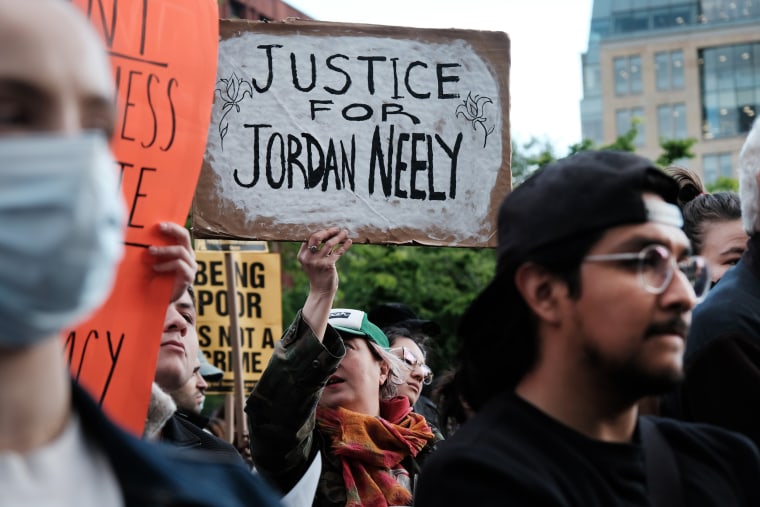 The Manhattan district attorney's office said Neely's death is under investigation.
Penny's lawyers have defended him amid the outrage, alleging that Neely had a documented history of violent and erratic behavior as a result of untreated mental illness.
"When Mr. Neely began aggressively threatening Daniel Penny and the other passengers, Daniel, with the help of others, acted to protect themselves, until help arrived," Penny's lawyers said in a statement on May 5. "Daniel never intended to harm Mr. Neely and could not have foreseen his untimely death." 
Representatives for Neely's family responded Monday, saying Penny never tried to help Neely and had no regard for his life at all.
"Daniel Penny's press release is not an apology nor an expression of regret," said a statement from Donte Mills and Lennon Edwards, attorneys representing Neely's family. "It is a character assassination and a clear example of why he believed he was entitled to take Jordan's life." 
New York City Mayor Eric Adams and Gov. Kathy Hochul drew criticism for their initial responses to Neely's death. Hochul  weighed in on May 3, saying, "There are consequences for behavior." She seemed to walk back her statements in a news conference a day later, saying that Neely's family "deserves justice."
Adams initially highlighted the right of subway riders to take action in certain situations. His messaging had changed by Wednesday, however, when he called Neely's death "a tragedy that never should have happened." 
"My heart goes out to Jordan's family, who is suffering great pain and uncertainty about the circumstances of his death," Adams said. He vowed to bring together the leaders of the five organizations that contract with the city to provide homeless outreach services for a summit next week about improving outcomes for people with serious mental illness.