Hollywood writers are closing their laptops and heading to the picket line.
Thousands of unionized scribes who say they are not paid fairly in the streaming era went on strike early Tuesday, bringing television production to a halt. It comes after high-stakes negotiations between a top guild and a trade association representing Hollywood's marquee studios failed to avert the first walkout in more than 15 years.
The board of directors for the Writers Guild of America, which includes West Coast and East Coast branches, voted unanimously to call for a walkout and said writers face an "existential crisis."
"The companies' behavior has created a gig economy inside a union work force, and their immovable stance in this negotiation has betrayed a commitment to further devaluing the profession of writing," the union said in a statement.
The Alliance of Motion Picture and Television Producers — a trade association that bargains on behalf of studios, television networks and streaming platforms — said in a statement that its offer included "generous increases in compensation for writers."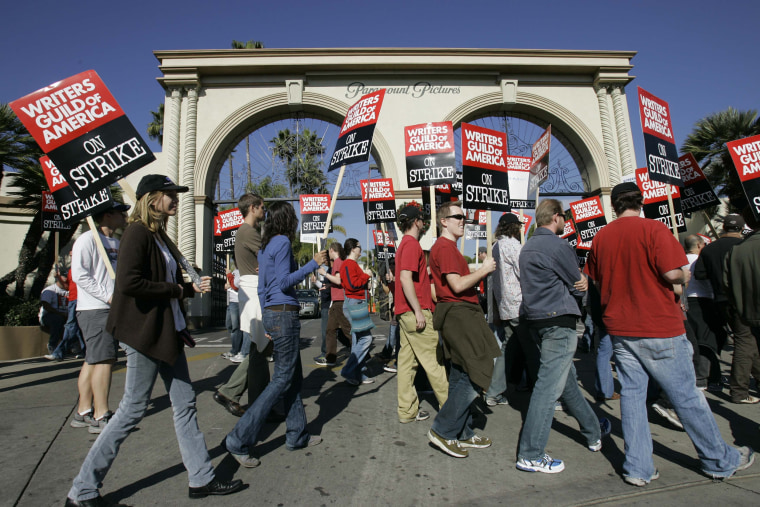 The main "sticking points," according to the entertainment giants, include union proposals that would require companies to staff television shows with a certain number of writers for a specific period of time, "whether needed or not."
The strike brings production on broadcast programs, streaming shows and potentially some films to a virtual standstill, upending the entertainment industry. (Comcast, the corporation that owns NBCUniversal, is one of the entertainment companies represented by the trade group. Some editorial employees of NBCUniversal's news division are represented by the Writers Guild of America.)
In some cases, the impact will be clear immediately. Late-night talk shows are going dark this week, for example. In other cases, the producers of scripted drama and comedy series may be forced to cut their seasons short or delay filming altogether.
This weekend's new episode of NBC's "Saturday Night Live," which Pete Davidson was to host with Lil Uzi Vert as the musical guest, was canceled because of the strike, according to a news release. "SNL" will air a repeat Saturday and until further notice, it said.
The work stoppage comes amid intense economic and technological upheaval in Hollywood, which is grappling with the increasing dominance of streaming services, the decline of traditional broadcast viewership and even the rise of artificial intelligence, which has stoked anxiety about the future of creative professions.
The stakes and the demands
WGA members are seeking pay increases and structural changes to a business model that they say has made it increasingly difficult to make a living. In recent years, amid the explosion of streaming platforms such as Netflix and Disney+, median writer-producer pay has declined 4%, or 23% when adjusted for inflation, according to WGA statistics.
"The companies have used the transition to streaming to cut writer pay and separate writing from production, worsening working conditions for series writers at all levels," the WGA said in a bulletin March 14 titled "Writers Are Not Keeping Up."
The guild added that more writers are "working at minimum regardless of experience." In contrast, salaries for top entertainment executives have ballooned in recent years.
In a video message published April 11, comedy writer and producer Danielle Sanchez-Witzel ("The Carmichael Show"), a member of the WGA's negotiating committee, said "this is not an ordinary negotiating cycle," adding, "We're fighting for writers' economic survival and the stability of our profession."
The writers in the union are particularly frustrated that streaming-era shows run for fewer episodes than their broadcast counterparts, making it tough to maintain a consistent income. In addition, residual fees — money paid when a show is put into syndication or aired overseas — have all but disappeared as more content is hosted exclusively on streaming platforms.
In an interview with "NBC Nightly News," Raphael Bob-Waksberg, the creator of Netflix's animated series "BoJack Horseman," explained the writers' demands in stark terms.
"We want more money," he said. "We want enough money to make a basic living doing what we love."
"I think we're getting to the point where it's going to be that the only people who can afford to try to start a career in television or movies are going to be people who are independently wealthy already, which I don't think is good for television or movies. I don't think we want that," Bob-Waksberg said.
The alliance represents major film studios such as Disney, Universal Pictures and Warner Bros.; the top broadcast television networks, such as ABC, CBS and NBC; and the leading streaming services, including Netflix, Disney+ and Amazon. (Universal Pictures is a unit of NBCUniversal, the parent company of NBC News.)
"The AMPTP member companies remain united in their desire to reach a deal that is mutually beneficial to writers and the health and longevity of the industry, and to avoid hardship to the thousands of employees who depend upon the industry for their livelihoods," the organization said in a statement Monday night. "The AMPTP is willing to engage in discussions with the WGA in an effort to break this logjam."
WGA members last went on strike in November 2007 amid an impasse with the AMPTP over writers' salaries and other issues. The work stoppage clogged Hollywood's content production pipeline and lasted 100 days, ending on Feb. 12, 2008.
The union is facing issues that might have been unfathomable during the last strike, when Netflix was best known for shipping DVDs in red envelopes and traditional network television channels still generated mammoth ratings.
In one sign of the times, the WGA's demands for this negotiation cycle include regulations for the "use of material produced using artificial intelligence or similar technologies."