Whether it's coffee, tea or another beverage, carrying your favorite drink on the go is essential for a smooth morning commute. There's nothing like that first sip as you're sitting down and checking your emails, or for a student like me, feeling that fuel kick in during an early morning lecture.
SKIP AHEAD Our experience | Why do we like it? | Similar products
In order to ensure the flavor, richness and temperature of your drink is still present hours after brewing, you'll need the perfect vessel. The Yeti Rambler has been one of my essentials the last four years — I don't think I would've survived college without it. Whether it's filled with hot green tea or iced coffee, my tumbler comes with me practically everywhere I go.
Yeti was founded by brothers with a passion for being outdoors; and since my brother has always been an avid outdoorsy person, he knew of many Yeti products before I even liked the taste of coffee. Since then, Yeti has been our family's choice for reusable water bottles — whether it be the classic water bottle or the 14-ounce mug. We have a whole shelf filled with various Yeti products in different sizes, and undoubtedly the 20-ounce insulated Rambler is my go-to.
One of my favorite things about the Rambler is how well it maintains my drink's temperature. Its double-wall vacuum insulation helps keep my tea cold on days where I'm out and about for over 12 hours in the heat, and also keeps my coffee piping hot — to the point where I have to unscrew the lid to let out some steam (which I consider to be the ultimate testament to how well it retains temperatures).
Over the course of four years, the paint has only chipped slightly, and that's most likely due to my carelessness of dropping it down a flight of stairs once or twice. I've scratched it against sharp objects, but you wouldn't be able to tell. Whether it's hot or cold liquid inside, the temperature on the outside of the Rambler is usually room temperature, so there's no fear of burning your hand.
The Rambler is available in 10 ounces, 20 ounces, and 30 ounces, all of which should fit in most standard cup holders, according to the brand. In my experience, the 20-ounce option is the perfect size for drinking on the go; it can sufficiently hold most large drinks (that I've ordered from coffee shops where you can bring your own cup) without spilling.
The Rambler comes with a MagSlider lid that looks just like a regular lid, but uses a magnet to help keep liquids from splashing while you sip. The lid is compatible with other Ramblers in addition to other Yeti products, though the size varies depending on your bottle. The magnet makes for easy drink access and is convenient to take off and wash.
The one downside, in my experience, is that it's not leakproof and won't prevent complete spills (though this is to be expected). Therefore, I have to be careful when putting the cup into my backpack, and I often have to hold the Rambler everywhere I go, which can be inconvenient — though I ultimately think it's worth it.
If you prefer a different lid option, you can purchase the Tumbler Straw Lid, which is great for anyone who likes to sip with a straw. Yeti recommends only using the Straw Lid on cold drinks.
Our experience with the product
If I'm bringing a drink out of the house, it's usually in my Rambler, which I typically use at least three times a week to hold green tea, coffee with milk or orange juice. I've poured both steaming hot tea and ice cold coffee into the bottle, and haven't noticed any inconsistencies in the temperature regulation.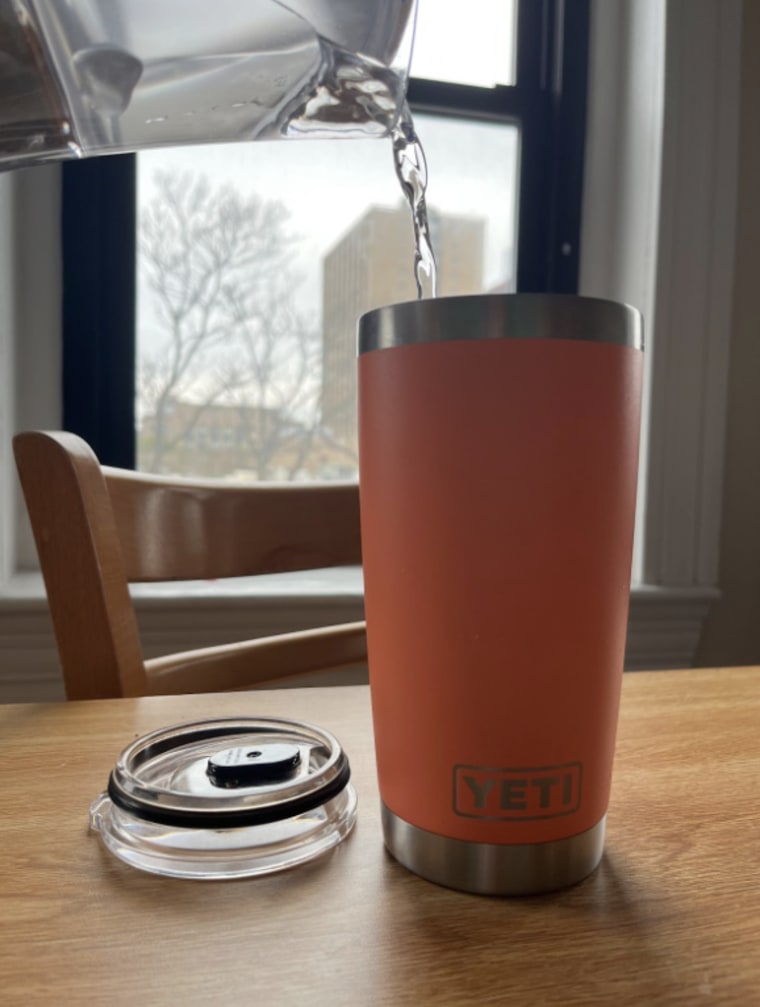 I wash my Rambler by hand after every use, and the bottle has held up very well. It rarely smells like my last drink when I reach for it again the next morning. When I'm at home and have access to a dishwasher, it comes out perfectly fine with no chips or scratches.
Why we like it
Besides its sleek, simple design, below are some additional benefits that we think make the Rambler worth it:
Temperature insulation: This keeps your drink at its desired temperature so hot drinks stay hot and cold drinks stay cool.
Durability: It's made out of rust-resistant stainless steel. I have dropped my Rambler more times than I'd like to admit and there is no visible damage besides some paint chippage.
Easy to clean: The Rambler and its lid are dishwasher safe. As someone who doesn't have a dishwasher in their apartment, I've also found it easy to clean by hand.
Other products to consider
While I am extremely loyal to my Rambler, there are plenty of other highly rated tumblers to consider that offer similar temperature regulation. The below options all have a four star or higher average rating.
Hydro Flask is a staff favorite — we've featured the brand before in our guide to the best reusable water bottles and we recently selected this tumbler as a winner in our inaugural Select Wellness Awards. Just like my beloved Yeti Rambler, its double-wall vacuum insulation keeps cold drinks cool and/or hot drinks hot, according to the brand. It's available in four sizes — 12 ounces, 16 ounces, 20 ounces and 28 ounces — and comes in several neutral and bright color options.
This dishwasher-safe option is great for anyone who is consistently dropping things thanks to this tumbler's non-slip silicone base. It has a double-wall vacuum insulation and a spill-resistant lid, which helps with flow control, according to the brand. Like other options on this list, there are numerous size and color options too.
Why trust Select?
Katrina Liu has used a Yeti Rambler for over four years. For this piece specifically, she considered its durability and temperature control features. In the past, she has written about other highly rated products including Bose's bluetooth speaker, Aerogarden's Indoor Kit and the Our Place Always Pan.
Catch up on Select's in-depth coverage of personal finance, tech and tools, wellness and more, and follow us on Facebook, Instagram and Twitter to stay up to date.